Success in accomplishing your selling or purchasing goals is vital to my success. From my family to yours we thank you for your business.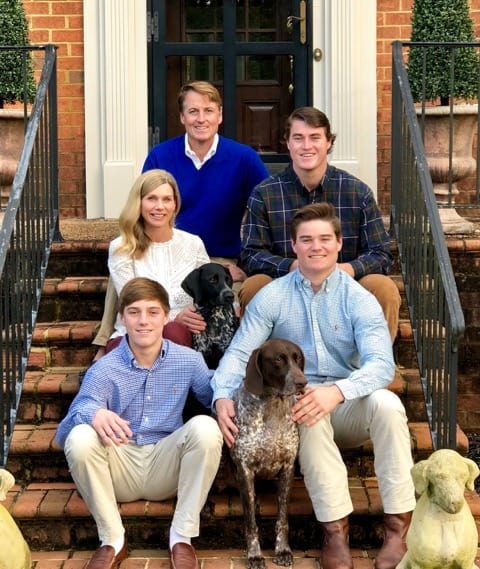 My wife Kelly and I are both native to Richmond. I graduated from Hampden-Sydney College and Kelly graduated from The University of Virginia. We reside in Western Henrico county in the River Road Corridor, where we raise our three sons and the two German Shorthaired Pointers.
Our family enjoys a very active lifestyle and a wide array of outdoor activities. Richmond's close proximity to the ocean and the Blue Ridge Mountains provides for boating, fishing, skiing, hiking, snowboarding, sporting activities and wonderful opportunities for outdoor living.
Our family enjoys golf. All of the boys have grown up busy with school sports, playing football and lacrosse. My older sons are attending Washington and Lee University and my youngest is a Saint at St. Christopher's School.
We have raised the boys to get involved with the many charitable opportunities in the Richmond area and contribute to the community through giving of their time. Our community has so many ways to meet great people and form friendships while helping improve the lives of others.
Richmond is also in a great location for getting to Washington DC and New York City. Our family enjoys taking the train up to enjoy the "Big City" life for weekend excursions and holiday trips.
Our life in Richmond is also full of enjoyment in the city's wonderful eclectic food scene and the ease in which we can get around the entire city with little traffic and many fun places to dine.
Please enjoy your visit to my website and call on me for professional service and responsible advice. I will provide you with personal attention and you will see how important your business is to us.

Bachelor of the Arts BA – History
My undergraduate education at Hampden-Sydney College taught me an understanding of history,economics and written expression. My Business education in the world of Real Estate has given me tools to provide clients the highest level of professionalism in this industry.
At Hampden-Sydney College I learned to appreciate Virginia history and studied the Civil War in detail. Today, I find that I enjoy relaxing with a book on The Civil War or Virginia History. Our hometown is incredibly rich with the American Experience. People fascinate me.
In my profession, I get to meet people from all over the world who have come to Richmond with their families to work, play and establish a comfortable life. I get to see people at their best and also at their most stressed times. I have always attempted to put myself in the shoes of my client. I know that each client has a unique situation, and each piece of Real Estate is ultimately unique.
The one thing that we all have in common is the desire for a safe and worry free existence. I will do my best to help you make the right decisions.
QUALIFICATIONS THAT MAKE A DIFFERENCE

My qualifications and accomplishments have been developed through years and years of Real Estate study and education. I made a commitment 30 years ago to learn the Real Estate business and get trained by the top people in our area.
I completed the Graduate Realtors Institute and the Certified Residential Specialist Designations. My Associate Broker training involved years of production experience and the foundation of understanding the core principles of sound Real Estate business.
Doing my job better is always in my mind. I am constantly adding cutting edge technology and utilizing the many tools that Long and Foster provides it's agents. I am also committed to the traditional roles of service and marketing that make my clients successful in buying or selling.

Look for this National designation when selecting an agent. GRI means a history of success, millions of dollars in sales and nationally accredited courses. Do business ONLY with the best.

Earning a Real Estate Broker's License in the State of Virginia requires additional experience and education. I have the credentials to own and run a Real Estate firm. I have associated my practice with Long and Foster.
LONG STANDING INDUSTRY RECOGNITION
Getting to the top of my field took commitment and hard work. Staying on top for over 30 years shows that my clients are pleased with the services we are providing.​
Long and Foster's Top Producing Agent for the Richmond Region for over 30 years.
Long and Foster's Corporate Sales Office in Innsbrook Top Producing Agent for over 30 years.
Long and Foster's Top Listing Agent for the Richmond Region for 30 years.
Long and Foster's Most Home Sales Closed in the Richmond Region for over 30 years.
Long and Foster Founder's Club – Gold Team Achievement.
Richmond Association of Realtors – Certificate of Achievement- 28 Year – Outstanding Production.
Long and Foster's Corporate Sales Office Top Listing Agent Corporate sales office in Innsbrook for over 30 years.
RAR Ruby Award – Richmond Association of Realtors Highest Level of Production for over 30 years.
Richmond Association of Realtors Distinguished Achiever Award for over 30 years.
Real Trends Ranking in the Top 1% of all Realtors in the Nation for 14 years.
Long and Foster Top Producer of the Year by Gross Commission "Richmond Region".